Fiona Martin takes the lead in upcoming San Domenico production 'Matilda the Musical'
Fiona Martin, a talented actress and senior at San Domenico is thrilled to play the lead role of Matilda Wormwood. However she feels melancholic, as this is her last year performing at San Domenico.
The Broadway production "Matilda the Musical" surrounds the life of Matilda Wormwood, a gifted young girl and avid reader who is forced to face discouragement from her fickle and unintelligent parents. On top of her family struggle, she is bullied and threatened by her evil principal. All of a sudden, Matilda's life turns upside down when she discovers she has telekinesis. With this newfound power, she fights back. Nov. 11 marks the first showing of San Domenico's "Matilda the Musical." If you haven't already, purchase your tickets now by visiting this link.
Martin has always stood out from the crowd. Not only was she a broccoli lover as a child, but her theatrical beginnings were similarly unique. Like the sprouting flower buds on a green, unpopular vegetable, Martin's love for theater sprung up at around eight years old. 
"What got me into theater was when I was in third grade; we put on a play and we were assigned random roles. There was no audition whatsoever," Martin said. "My teacher happened to assign me the lead and I played a bat. So from then on I was stuck.
"As a kid I loved to dress up… so I was always into theatrical ways of portraying myself," Martin said. "And then I joined [the] choir in fourth grade and we started to do musicals and plays at my middle school."
Martin fell in love with the randomness of acting. "I really enjoy being able to be in really weird situations and play really weird characters," she said. "I find there's a freedom of self expression in the most extreme way."
Martin explains she is very grateful for the support and kindness she has received from her peers and instructors. She views directors Jen Grimes and Erica Smith as her role models.
"They really helped me grow and build my skill set as an actor that I'm now trying to take on to college," she said.
She also highlighted her mother, Melissa Martin, for being her inspiration and expressed gratitude for her willingness to drive her to rehearsals for the past four demanding years.
Undeniably, this year's cast for the play is tight-knit, being composed of less than 20 people. While compact, they pack a punch. 
"We have an amazing cast… We have a small group, but everybody pulls their weight and everybody works so hard to make the show what it is," Martin said.
Further, she commended the immense efforts and essentiality of the ensemble. Without them, the show wouldn't be successful.
Junior, ensemble member and multi-casted actress, Caroline Pirsch highly reveres Martin's acting skills in both last year's "Mamma Mia" and now in "Matilda the Musical." She commends Martin's perseverance in light of the vocal and physical strains of her role. 
"Fiona's an absolute star, she absolutely deserved the role… I'm really proud of her and I'm so excited for everyone to see her perform," Pirsch said.
While grateful for ensemble members such as Pirsch, Martin also applauds the multitude of underclassmen who stepped outside their comfort zones to be a part of the show. Additionally, she excitedly awaits performing with Lily Broll as Ms. Trunchbull and she relishes working alongside the actors who play her family: Leo Jolson as her father Mr. Wormwood, Briar O'Connell as her mother Mrs. Wormwood and Jacob Ellis as her older brother Michael Wormwood. 
"They all fit into their roles perfectly, and they are so funny," Martin said. "My greatest challenge for the show is not to laugh on stage because of how good they are at their roles." 
Martin also looks forward to supporting her younger sister, Eleri Martin in her roles as Matilda's friend Nigel Hicks and ballroom dancer Rudolpho.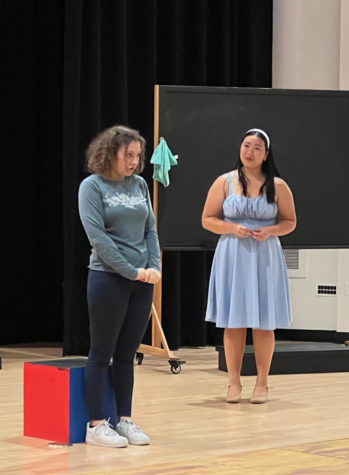 Another actor Martin greatly respects and appreciates is her best friend and fellow senior at San Domenico: Malia Corinne Louie.
"I always love acting with Fiona," Louie said. "She is the one who pushes me to be a better actress."
Louie greatly values the time she spends with Martin rehearsing during study hall and after school. She sees Martin as someone who lights up her life with vibrance and joy. 
In last year's play "Mamma Mia," Martin played the role of Rosie alongside Louie as Tanya. Their comedic roles as Donna's best friends brought them closer together. This year their accompanying roles in Matilda take on a more affectionate note. 
"We've grown as actors together and we've learned how to play off each other in a successful way," Martin said. "[Now] we're playing off each other in our roles, but it's in a very different way— it's more of a personal and intimate thing, and I think that our friendship and our love for each other allows that to happen."
Louie detailed that many upperclassmen auditionees doubted their acting capacity to play roles meant for children. The looming lead of Matilda seemed unattainable to most. Overlooking this general despondency, Fiona bravely strode to her audition.
"Knowing Fiona Martin, she is ready to take on any challenge that comes to her," Louie said. "She's always wanting to learn, and that's what makes her so amazing." 
Despite student skepticism of the theater program's choice for the school play, Martin believes that the musical will be a great show that adults and children alike will enjoy.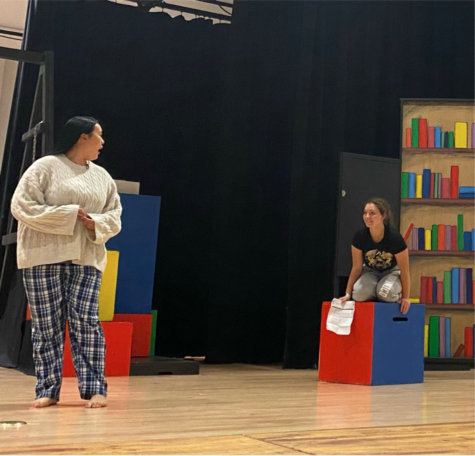 "At first it might seem like an immature show because it's based off of a kids book… But it's not just a kids book; it talks about very adult themes, and it is very complex and mature," she said.
The play not only features themes of coming of age in the script, but also in the hearts of actors and audience members alike. 
As seniors stare their future in the face upon submitting college applications and juniors and underclassmen prepare for the loss of their close friendships at graduation, the whole student body will undoubtedly become emotional upon watching "Matilda the Musical". 
As a junior with a lot of love for the senior class, Pirsch said, "I swear I've cried so many times in rehearsal because I hate the fact that a lot of the cast is graduating."
Both her friends in the cast and across campus will all be crushed to watch Martin fly the coop. While her journey forward is bittersweet, everyone is immensely proud of her and look forward to seeing her bright future on a broader stage. 
Under Martin's wing, the small, yet mighty cast has persevered through the chaos of theater production. 
As Matilda would say, "Even if you're little, you can do a lot."