5 trending looks that will never go out of style
Do you find yourself tearing through your closet, unable to put together an outfit? Do you want to upgrade your wardrobe but are unsure of where to start? Would you like to experiment with new aesthetics? Keep reading to discover your newest fashion fascination for spring and beyond. 
Rockstar Girlfriend
Hands down, the number one trend to follow in 2023 is the "rockstar girlfriend" aesthetic. 
The lifestyle emerged in the 60s with groupie culture. Evolving throughout the years, models like Kate Moss, Pattie Boyd and Iman defined what it means to be a "rockstar girlfriend". 
Today, teenagers take inspiration from fashion trendsetters like model Devon Lee Carlson, ex girlfriend of The Neighbourhood's lead singer, Jesse Rutherford. 
Back in the early 2000s, rock chicks wore cheetah print, fur coats, studded leather, silk mini dresses, faded jeans and stolen boyfriend jackets. 
Now in 2023, rockstar girlfriends dress in a similar fashion with a few additions: Converse sneakers, Doc Marten boots, fitted band tees, lingerie tops, all things Brandy Mellville and an emphasis on smudged eyeliner and unstyled hair.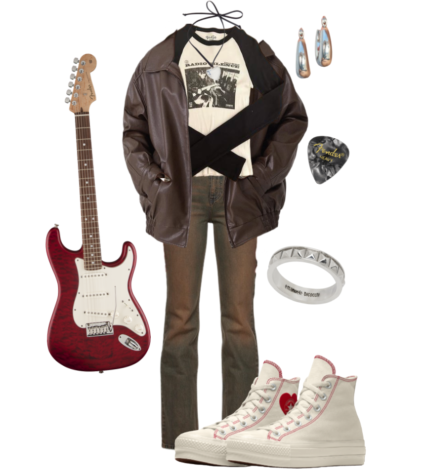 Steal this look!
Brandy Melville bella radio silence top 
Motel Rocks x Oliva Neill Cavita Jacket
Urban Outfitters valentina corded heart necklace
Brandy Mellville thick hoop earrings
Emanuele Bicocchi silver pyramid ring
Converse custom chuck taylor all star lift platform
Subversive Basics
All aboard the spaceship! To Mars we go!
 The dress code is simple: we must follow the fad of the future— "subversive basics." 
Emerging in 2020, subversive basics began as a fad and is still going strong, truly making it the style of the century. 
To achieve such an immortal aura, items with overlapping fabrics and cut-outs are a must. You can't go wrong with layering—be sure to stack tops, tights, jackets, jewelry and anything you can manage to pile on top of yourself. Exposing thong straps and underpant waistbands is highly recommended. 
Lastly, apart from silver, make sure to dress in neutral colors only: white, gray, black, cream, tan, muted greens and brown.
Doja Cat is an example of a celebrity who embodies the subversive trend. She stunned fans at the Austin City Limits concert with her unmatched talent and Mars-explorer energy.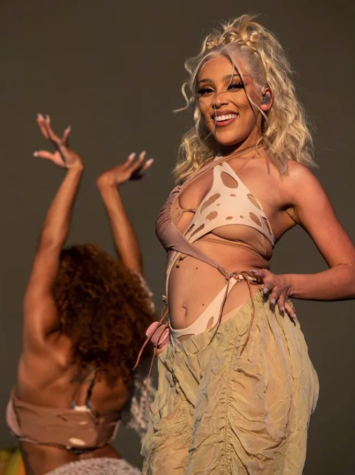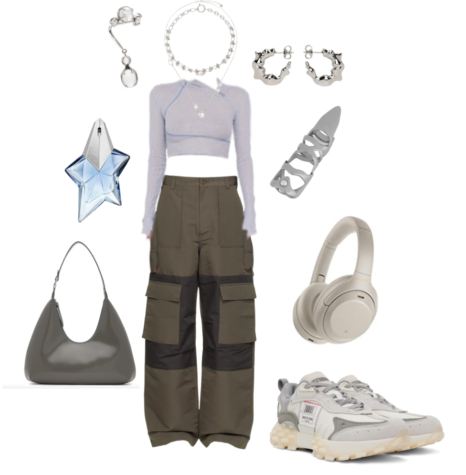 Steal this look!
Hyein Seo helix long sleeve top
Vitaly x Tate McRae verge ring
Isabelle Marant silver rain drop necklace
Alan Crocetti silver droplet necklace
Alan Crocetti silver crystal drip ear cuff
Hugo Kreit Ssense exclusive silver coral hoops
Sony noise canceling headphones
Fairy Grunge
The next aesthetic to fly into popularity is "fairy grunge". Appearing in early 2020, the style emerged from the DIY, nature walk centered lifestyle of the pandemic. 
Like many aesthetics that are popular among teenagers today, fairy grunge is inspired by fond childhood memories. The aesthetic combines naturesque mystique with 90s grunge and ties it all together with a teenage twist. Essentially, what you should try to go for is an edgy forest fairy. 
Dress in earth tones, long peasant skirts, ripped pantyhose, knit sweaters, excessive silver rings, Doc Martens, crystal necklaces, corsets and legwarmers. 
Preferably, you should source your clothes sustainably, just like an earth-loving fairy would. Not only can you thrift the majority of your pieces, but you can also upcycle what you already own: paint skeleton anatomy on your old hoodies and t-shirts with bleach; crochet your own hand warmers; cut, stretch and tie your tank tops to create unique fairy-like pieces and make your own jewelry using an assortment of beads and faux pearls.
The number one fairy grunge icon is singer Beabadoobee.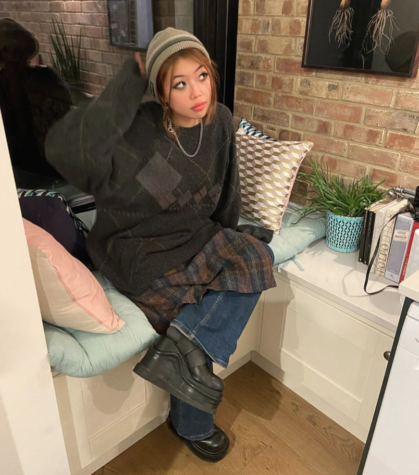 Sporting the aesthetic since before it had a name, she wears long skirts layered over jeans, knit "grandpa" sweaters, knit hats(often crocheted and cat shaped), knit shrugs and one of a kind thrifted items.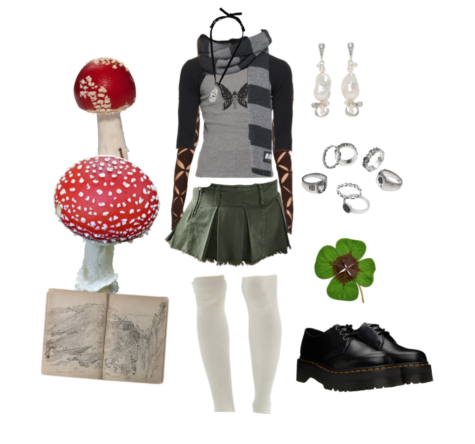 Steal this look!
Anna Sui Ssense exclusive fairy top
Minga London vapor stripes scarf
Free People pleated micro mini skirt
Urban Outfitters knee high socks
Minga London ace of spades ring set
Isa Boulder Ssense Exclusive argyle gloves
Mounser silver pruina earrings
Winter Girl
It has been unbearably cold and breezy out lately for those of us accustomed to California weather. Many San Domenico students can be seen rigidly clutching to their puffers, layering fuzzy socks with their Uggs and even wrapping their necks with scarves to keep warm. An update from the everyday cold weather clothes is much needed.
That brings us to our next aesthetic—"winter girl." Inspired by the early 2000s and cliche Russian fashion, the winter girl aesthetic features ushankas(fur hats), chunky snow boots, ear muffs, mittens and gloves, Chanel, fur-lined puffer jackets and fur-trim cardigans; all of which are mainly colored a crisp white. Sometimes the aesthetic makes room for browns, cream and pale pink, but primarily, winter girls dress in garments as white as the snow. 
Paris Hilton is an unforgettable winter girl inspiration.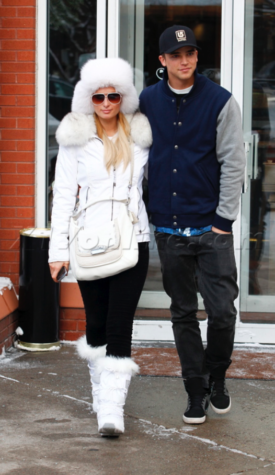 In 2012 on her way to ski with her boyfriend in Aspen, she served a wintery get up complete with white DC snow boots. Today, winter girls search frantically for these boots on websites such as Depop in order to recreate her outfit and achieve the iconic early 2000s winter vibe.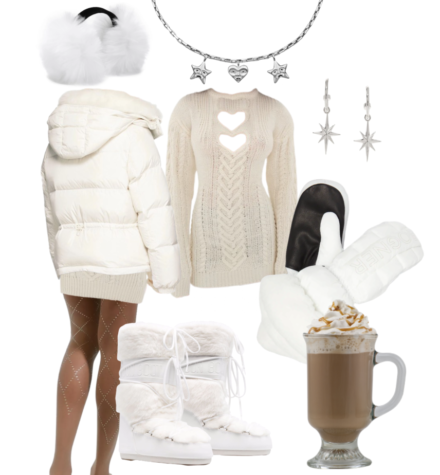 Steal this look!
For Love and Lemons vera cut out dress
Urban Outfitters argyle rhinestone tight
Yves Salomon – Army doudoune jacket
Stolen Girlfriends Club silver north star earrings
PUCKR silver star and heart choker
Preppy
Time to channel your inner "Gossip Girl" with the "preppy" aesthetic. Although preppy sounds pretty negative, it doesn't necessarily signify snobbery. Preppy fashion is cute, clean, elegant and gives one an independent air. 
To dress preppy, formality is key—you must dress to impress. Try on full length cardigans, collared dresses and skirt sets, anything expensive featuring a bow, stockings in new condition, blazers and dress pants, pearls and all things gold. 
An example of someone who embodies the preppy aesthetic is Blair Waldourf from "Gossip Girl."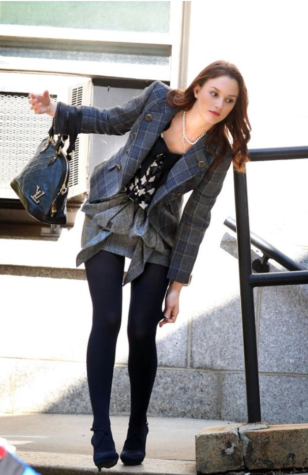 Played by Leighton Meester, Blair is the "Queen B" of the Upper East Side and she sure knows how to dress.
This outfit was featured in an episode of "Gossip Girl" from the year 2010—bringing us back to our theme of early 2000s revival.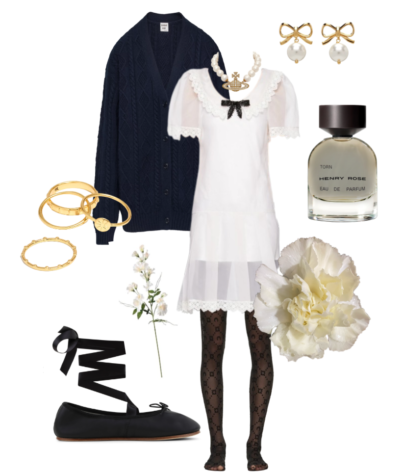 Steal this look!
Vivienne Westwood neysa pearl choker
Repetto sophia ballerina shoes
Madewell etched pinwheel stacking ring set
If you love these aesthetics but are nervous to try them out, don't worry. You can always mix and match different styles to create one that is uniquely yours that you feel confident in. 
And if you decide to go all out and follow a trend to the t, remember that how you felt in the mirror that morning is more important than other people's opinions. 
As long as you like the way your outfit looks and it makes you happy, why let anyone else determine how you feel about it? That's like disliking pancakes all because your friend thinks they're gross. That would be silly. 
Hopefully you are now inspired to go after your fashion goals and confidently experiment with your individual style.