Annie's journey: A tribute to athletic trainer's month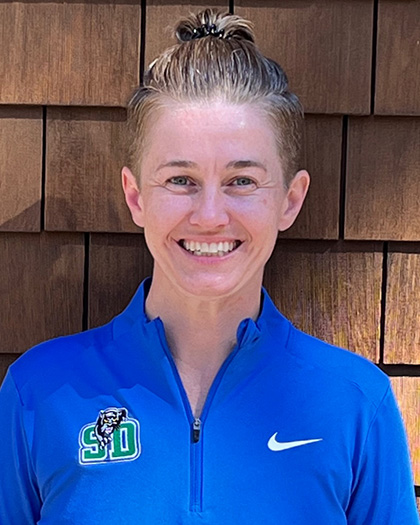 Annie Thatcher-Stephens is a highly skilled and experienced athletic trainer who joined San Domenico this year. With her vast knowledge in the field of athletic training, she has played a crucial role in ensuring that San Domenico student-athletes are healthy and ready to perform at their best. 
If you believe Thatcher-Stephens always knew she wanted to be an athletic trainer, you may be mistaken. She was a ballet dancer in high school, which helped her obtain a scholarship to study dance performance at the University of Hartford in Connecticut. After college, she returned to California to dance professionally for local organizations around the area. However, at some point of her career she recognized she needed a secondary job to be able to make more money.

"I got a certification in personal training, and started working at the YMCA being a personal trainer and also performing as a dancer," Thatcher-Stephens said. "But I still knew that I needed to make more money and I wanted to get out of the dance industry and go more towards the medical industry." 
In order to work in the medical industry, Thatcher-Stephens decided to get a degree in physical therapy, so she started taking classes at City College in San Francisco, where she had the opportunity to start an internship with the athletic department. 
"I started taking classes at City College of San Francisco," Thatcher-Stephens said. "Then I also did an internship in the Athletic Training Department at City College. I got to work with the football, soccer and volleyball teams."
It was working with athletes from different sports that Thatcher-Stephens discovered that athletic training was the area she wanted to pursue. 
"I realized that athletic training was the area that I wanted to follow because I got to work with young and healthy athletes. Young athletes are my style because they're upbeat and very motivated," Thatcher-Stephens said. 
After two years at the City College, Thatcher-Stephens went on to study at Seton Hall University, in New Jersey. There she had the opportunity to work at the New Jersey Institute of Technology and also at Princeton University as a graduate intern.
"It was a great experience. There I got to work with really good teams and athletes. It was really hard, but it was fun, " Thatcher-Stephens said.
After Thatcher-Stephens graduated, she decided to move back to San Francisco because she missed her parents and friends. Back in the Bay Area. She worked for UCSF at Alameda High School in the East Bay before moving to San Domenico.
"That was amazing. I was doing what I love, working with young athletes," she said. 
When asked about her experience working at San Domenico, Thatcher-Stephens appears to be very happy with everything she has experienced so far. 
"My experience at San Domenico so far is mostly awesome," she said. "I think it's really cool to be at a school that's in a growing phase for their sports. The campus is beautiful, people here are really supportive, the environment is nice and I also get to work with international athletes, which isn't something I have experienced at the high school level before."
Thatcher-Stephens is a dedicated professional who works tirelessly to prevent and treat injuries among the students. With her guidance and support, many students have been able to avoid injuries that could have otherwise jeopardized their athletic careers. Cortney Tsamba, a sophomore, who has been in the final steps to recovery from a knee injury, talked about how crucial Thatcher-Stephen has been for her recovery.
"She's a good person to be around, especially for athletes. If you are having any pains or issues, go to her office and you get out of her office a different person," Tsamba said. "Even your mood can change when you see her, she not only makes you feel better physically but she can help you with things beyond sports. That's why I love her." 
Mark Churchill, San Domenico's athletic director, believes that she has been playing an extremely important role in the athletics department.
"It's funny, we've never really had a trainer full time like we do this year and never noticed what we were missing. Annie has contributed a lot for the success of athletics, students have a chance not only for treatment, but for injury prevention and conditioning exercises as well. It's just amazing. Now, our athletes can perform at a higher level," Churchill said.
In addition to her injury prevention and treatment work, Thatcher-Stephen is an excellent communicator who interacts warmly with the students-athletes. Her approachable personality has helped her build strong relationships with student-athletes, coaches, and other staff members. This has made it easier for her to get to the root of problems and provide effective solutions. 
Overall, Annie is a highly valued member of the San Domenico community. Her commitment to the well-being of student-athletes is unwavering, and her expertise has helped countless students stay healthy and achieve their athletic goals.