Trader Joe's does it again: a review of San Domenico's favorite snacks
Trader Joe's is a constant beam of light for teenagers and Marin moms alike due to its friendly employees and incredible snacks. Within the treasure trove of Trader Joe's items, many shoppers have picked hidden gems that are their go-tos for any occasion. After surveying San Domenico students about their top Trader Joe's snacks, I decided to try some of the most popular items. 
And I honestly have to say, I was impressed.
Many of these items are similar to name-brand snacks that we know and love, often being cheaper and healthier as well. I'm testing a few of these Trader Joe's versions to see if they're really as superior as people claim.
Chili and Lime Rolled Corn Tortilla Chips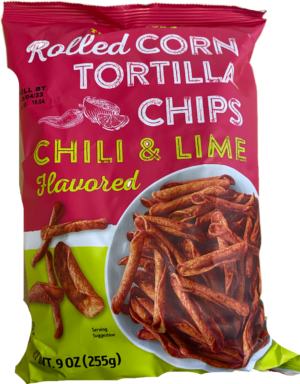 The Chili and Lime Rolled Corn Tortilla Chips have become well-known as a better alternative to Takis. In fact, many people actually prefer them to the brand-name version. Along with being delicious, the chips are gluten-free, whereas Takis have cross-contamination. The chili and lime chips definitely have more lime flavor than spice, the citrus flavor really shines through more in the alternate version. Since they're not as spicy and have a slightly different flavor profile, these overall feel more mild. I could easily eat a whole bag of these; however, as someone who loves the balance of spice and lime of the original Takis, I didn't particularly enjoy the strong lime flavor. The bag was $2.99 for a 9-ounce bag, putting it at a lower price point than a similar bag of Takis. These are a great option for those who enjoy a lime flavor with a slight kick to it. Overall, I did appreciate these chips despite still preferring Takis, but this is for sure a must-buy. After trying the Chili and Lime Rolled Corn Tortilla Chips, I'd recommend them with a solid rating of 8/10.
Mini Milk Chocolate Peanut Butter Cups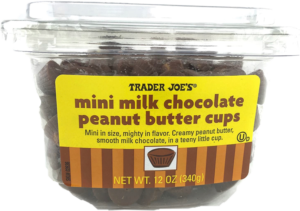 Trader Joe's describes them as "mini in taste, mighty in flavor," and I've never agreed with anything more. I'm absolutely obsessed with Reese's Peanut Butter Cups, but I might have found a new favorite. Both the Reese's and Trader Joe's versions are fairly basic peanut butter cups but the Trader Joe's brand almost feels healthier and more natural. My biggest pet peeve when it comes to peanut butter cups is the bitter aftertaste that comes from poor chocolate quality, but that isn't present in these at all. The Trader Joe's version has solely peanut butter inside instead of a filling mixture, making it thicker when eating and creating a less artificial flavor. It's also worth noting that the container is filled almost all the way and-being mini peanut butter cups-you're getting a whole lot more in the container. I absolutely loved these and I'll for sure be coming back for them. Because of my new obsession with the mini milk chocolate peanut butter cups, I'd rate these a 10/10.
Ghost Pepper Potato Chips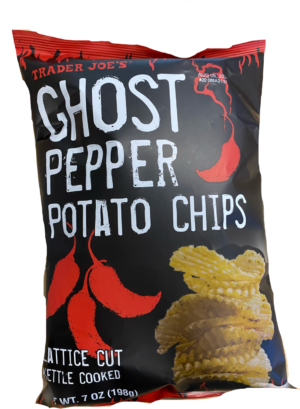 I was extremely excited to try these chips since they were highly recommended by many San Domenico students and spicy food is my absolute favorite. The chips weren't as spicy as I expected but the aftertaste hit me like a truck. Maybe a small truck, like a hot wheels car? The chips were almost sweet at first but they definitely had a spicy aftertaste that increases as time passes. I was impressed by the amount of coating on the chips; with many flavored potato chips, the flavor can be too subtle, but not these. These chips delivered what they said they would but at the same time nothing more. I wasn't blown away; I don't think I could eat a whole bag. Honestly, I don't see myself getting them again. However, I can see the appeal and understand why these have some people coming back for more. This item is somewhat seasonal at many stores so it's very hit-or-miss to find them at your local store, but I'd say it's worth a try if you spot them. Overall, I would rate this a 7/10, it's a fairly decent snack to fill a savory craving.
Scandinavian Swimmers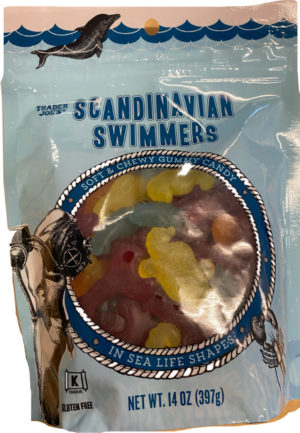 Like many items from Trader Joe's, this is the store's version of a popular candy: Swedish Fish. I have to give them points for the name and for some clever off-branding. My thoughts on these are simple: Yes. Yes. Absolutely yes. I absolutely loved these and-given that I'm already a fan of Swedish Fish-I expected to enjoy them. There are four different flavors based on shape: blue dolphin (huckleberry), red lobster (berry), rockfish (orange), and yellow seahorse (mango peach). The lobsters are spot-on for the flavor of regular Swedish Fish and that one quickly became my favorite. The seahorse, however, should be on the FBI watchlist. All of the flavors remind me of the discontinued Scooby Doo gummies that marked my childhood, making this an incredibly nostalgic treat. I even ended up bringing these as a beloved snack for Spring Discovery; my roommates also agreed on how good these were. They ate the whole bag and I'm still recovering from the heartbreak. These gummies were addictive and amazing and they can do no wrong. In conclusion, I rate these a 9.5/10 with points taken off solely because of the seahorse flavor which hurts my very soul. There is also a sour version that I'll also be checking out but the regular gummy Scandinavian Swimmers get a huge thumbs up and my entire wallet. 
Rhubarb and Strawberry Soda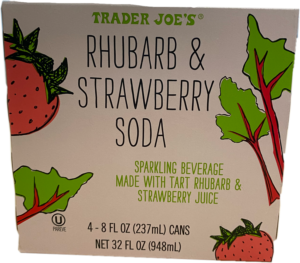 I don't usually look for drinks at Trader Joe's, but this one was recommended by so many people that I had to give it a try. The packaging was very pretty and I had high hopes immediately. However, I was extremely disappointed by the flavor. I expected the drink to have more fizz than it did, given that it was advertised as a sparkling drink. It is very sweet, something that confused me on first taste. Strawberry rhubarb is a flavor often memorialized in pies and pastries but it's not usually as sweet as the flavor in this drink. The strawberry taste overpowered the rhubarb, but the rhubarb flavor came back with a vengeance in the aftertaste. I have mixed feelings about the drink and I genuinely could not tell you if I enjoyed it or not. I wouldn't get this again, but I can appreciate the classic flavor. I give the strawberry and rhubarb soda a 5/10 and I recommend finding a different drink to pick up next time you go to Trader Joe's.
Trader Joe's has become increasingly popular in recent years due to the low prices and delicious snacks. There truly is something for everyone, something I can attest to after trying several of these snacks. I encourage everyone to go try these snacks for themselves and if you have any more Trader Joe's snack recommendations, let us know in the comments so I can continue wreaking havoc on my wallet.