San Domenico students make it official: Sustainability is on trend!
With influences from social media and the digital age, sustainability is on the rise at San Domenico School. While fast fashion stores like Urban Outfitters still remain popular, "thrifting" has become a more common and socially accepted source of locating unique fashion. From this sustainable activity arose an increased interest in early 2000s fashion and retro styles.
Teachers observe fashion trends among students on campus and can compare them to trends they witnessed in the past with unique insight.
Yoel Iskindir, a film instructor at San Domenico, believes that the current trends among upper school students vary greatly from when he was in high school. He notices loose, summery styles, namely "cottagecore," often paired with pajama or otherwise baggy pants. He recalls that his highschool peers wore a lot of Northface and flannels. 
Inskindir says, "I absolutely hate shopping." He explains that he rarely feels compelled to purchase clothing due to the lack of quality men's clothing in stores and questionable return policies online. This perspective is almost unintentionally sustainable. 
"I dress in stuff I've worn in college and high school," Iskindir says. He suggests others should ask themselves when shopping, "What can I buy now that's good quality and not going to go out of style?"
This question raises a larger discussion of overconsumption and individual sustainability efforts. Iskindir confirms the rise in sustainability on campus. 
"I think thrifting is not really this cool niche thing [anymore], it's pretty standard," Iskindir says. "And I think that that comes with wearing more vintage or dated clothes," he adds.
Many fashion trends start with young people, and the San Domenico student body is no exception.
Vanessa Sumski, a junior at San Domenico articulates the origins of her style: "I was really influenced by a lot of people I saw on Instagram who wore a lot of gothic clothing." She says, "I want to be more extravagant in the way I dress." 
Sumski loves to shop at Dolls Kill and Urban Outfitters. While she previously thought Urban Outfitters had more basic clothing, she claims that the store has "really changed up their style." 
Namely, she recently purchased a pair of BDG jeans with a blingy, rhinestone snake pattern. She believes the brand is "becoming more inclusive to everybody," as they are adopting a wider variety of aesthetics and textiles, namely more "goth" and edgy styles. 
To those preparing for the hallway runway, Sumski exclaims bling, Y2K and subversive basics are in! For those who don't know, subversive basics are elevated basic pieces that often feature overlapping mesh fabrics and asymmetrical cuts and styles.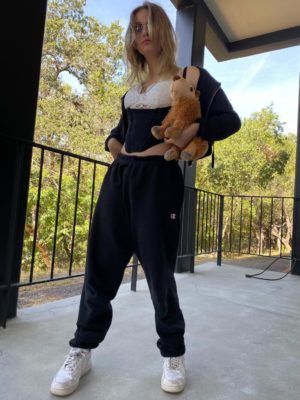 Sumski also says, "To anybody who's too scared to dress up [how they want], just do it!" 
Bella Riella, a Senior at San Domenico, also has her eye on fashion design and trends on campus. 
She remembers, "Growing up I really enjoyed watching New York Fashion Week and Paris Fashion Week." 
When it comes to trends around campus, Riella observes students wearing mainly Adidas, Doc Martens and Air Forces. "The shoe game is very repetitive," she laughs. 
The most notable trend to Riella is students using tote bags for school and ditching backpacks. Other current consistencies are brands like Fear of God, particularly their Essentials sub-brand and Urban Outfitters. Additionally, she notices that Marc Jacobs' Heaven collection has been popular on social media and among students for some time now. 
Riella predicts that preppy fashion is coming back in for fall with the rise in New Balance sneakers and Ralph Lauren. 
As an individual, Riella loves to thrift, especially on websites such as Depop and Poshmark. She believes that anyone can thrift, especially when it comes to basics. She does not believe there is a need to buy everything new when you can find it for less money and better quality on thrifting websites and stores. 
On the topic of environmentalism in fashion, Riella says, "I think fashion really impacts the environment overall. Things like sweatshops as well as carbon emissions really contributed to climate change." 
Riella warns, "Even quote-unquote sustainable companies, even H&M sometimes, advertise themselves as sustainable but really [they are negatively] impacting the world… which is crazy in my opinion." 
In light of everything, from trends to ethical fashion, Riella advises, "I think people at school shouldn't have to feel like we should follow all these fashion trends. I think people really need to be authentic to themselves when it comes to fashion and expressing themselves. Even people who don't believe in fashion or don't even care about it that much, they're still dressing up everyday and that's still fashion."
This fall, think about how the clothing you purchase affects the environment. Wear whatever makes you feel good and makes the earth feel good too!