These Starbucks holiday drinks sleigh!
We're making a list, we're checking it twice, we're figuring out which drinks are naughty or nice. After Thanksgiving and all things pumpkin spice, the Starbucks holiday drinks are as popular as ever. This year, Starbucks is celebrating 25 years of their trademark holiday cups, an item that is highly coveted by holiday enthusiasts. 
The Starbucks seasonal drinks have become a core part of holiday tradition for many people in the Bay Area. With wintery flavors of peppermint, caramel brulée, sugar cookie and more, these drinks shine bright. 
Our Panther Press team committed to testing the six drinks available this year to see if they're worth the hype. We reviewed classics like the Peppermint Mocha in addition to new holiday drinks: the Irish Cream Cold Brew, the Caramel Bruleé Latte and the Chestnut Praline Latte. Despite these drinks being almost as popular as Mariah Carey in December, not every drink was a hit.
As a class, we took our notepads to the Terra Linda Starbucks in Northgate One. The store was a fairly typical Starbucks, clean and complete with a coffee aroma. The service was great. Our order was taken quickly with little fuss, and the drinks arrived in a timely manner. Even though the holiday drinks follow the same recipes across the country, the drinks at individual locations may vary. As a disclaimer, this was our experience with the drinks at a specific store. Methodology differs from barista to barista, so we encourage you to try for yourself to figure out your favorite drink from the Starbucks holiday lineup. 
Sugar Cookie Almond Milk Latte
Hannah Silber's rating: 8/10
If you're not a big coffee drinker this is the drink for you. With its strong vanilla taste with a hint of the buttery flavor of a golden cookie, the Sugar Cookie Almond Milk Latte is sure to be a holiday favorite this year. 
At first glance, my eyes were immediately drawn to the beautiful Christmas themed sprinkles on top. The overpowering butterscotch smell was misleading, but as soon as I took a sip, I was not disappointed. The smooth, delectable flavor of almond and vanilla immediately took over my taste buds and made me feel warm and cozy inside. 
Amazingly, this drink is dairy free! It is made with sugar cookie flavored syrup, Starbucks Blonde Espresso, almond milk and topped with cookie sprinkles. There is a small hint of coffee but other than that, you can't really taste it. If you prefer a stronger coffee flavor, I recommend getting it with an extra shot of espresso. 
Peppermint Mocha
Isaac Archer's rating: 8/10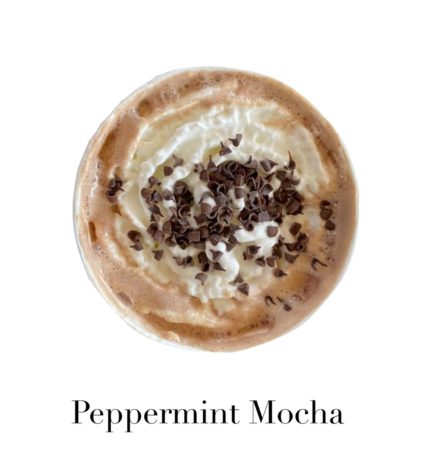 In the interest of transparency, I'm not someone who regularly indulges in coffee. While I enjoy the aroma, the taste is off-putting to me, so I rarely partake in the bitter beverage. However, if you're a coffee newbie like me, the Starbucks Peppermint Mocha is the drink for you. 
I have to admit, when I first saw the drink I was suspicious. Its carefully crafted appearance seemed like overcompensation. But the Peppermint Mocha is no siren.
The drink is liquid peppermint bark — that also happens to wake you up. While it still has coffee undertones, there is no bitterness or sour aftertaste. It's remarkably like drinking a dessert, 54 grams of sugar and all (nutritional information for 16 fluid ounces.)
Caramel Brulée Latte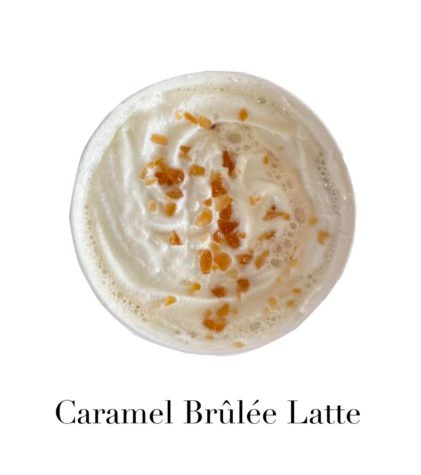 Maja Cykowska's rating: 9/10
If you're a fan of caramel, you will love the sweet taste of the Caramel Brulée Latte.The drink is topped with whipped cream and a crunchy brulée topping.
At first taste, the Caramel Brulée Latte surprised me with a really sweet and buttery flavor. In my opinion the butteriness is what makes the coffee different from the other Starbucks Christmas drinks. A delicate and sweet taste combined with a strong caramel aroma creates the perfect balance. 
Caramel Brulée Latte was definitely my favorite drink out of all of the Christmas drinks Starbucks had to offer. It was also highly rated by the rest of the reporters. My fellow taste-tester described it as a drink "perfect for a cold morning."
Toasted White Chocolate Mocha
Isabelle Jolson's rating: 2/10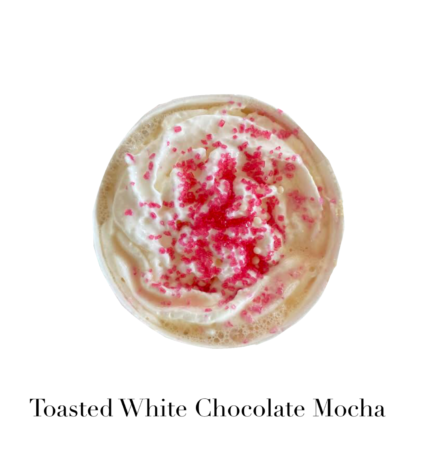 I wish I could say I'm dreaming of a white chocolate mocha, but this drink is more like something from my nightmares. 
The Toasted White Chocolate Mocha is made with dairy milk, toasted white chocolate mocha sauce, espresso, whipped cream, pink sugar sparkles and candy pearls. This sounds delightfully decadent, but don't be fooled.
While it put up a delicious facade with its pleasantly subtle aroma and pretty, pink sprinkled presentation, the flavor was way too sweet.
The overpowering sugariness reminded me of months of unwanted, old halloween candy crumbled into a drink. All it took was one sip for me to pour it down the drain. Personally, I would rather eat a handful of discarded white chocolate kit kats than drink Starbucks' Toasted White Chocolate Mocha.
While this drink might be a favorite among those with a sweet tooth, it was definitely not for me.
Irish Cream Cold Brew 
Monica Sanford's Rating: 6/10 
Make my wish come true! All I want for Christmas is a cold brew! 
The cold brew is an especially unique drink because of its brewing process. The coffee bean grounds are steeped in cold water for 10-20 hours giving it an extra strong and refreshing taste. This year, Starbucks tried putting their holiday touch to this cold beverage.
The Irish Cream Cold Brew is topped with Starbucks' signature vanilla sweet cream cold foam and sprinkled with cocoa powder. Although the drink has a pleasant coffee flavor, it was not giving holiday vibes.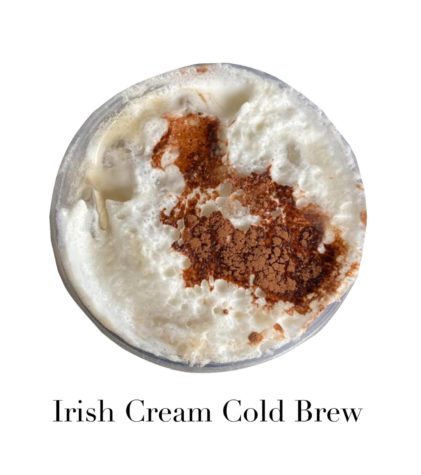 The drink is swirled with Irish cream syrup, which is a culmination of cocoa, vanilla, and almond extracts. To me, these flavors are stuck in fall.
 To be blunt, it tasted like regular cold brew coffee. At first sip, the drink was extremely strong and bitter, which is to be expected and characteristic of a cold brew. I shook the cup, blending the vanilla cold foam and the cold brew, the drink became sweeter and more enjoyable. At any other time of the year, I would find this drink delicious and satisfying because of how refreshing it is. During the Christmas season, I would opt for one of the hot drinks with a more authentic holiday flavor.
Chestnut Praline Latte 
Angelo Neto's rating: 9/10
 Of all the holiday gifts Starbucks is offering this season of the year, the Chestnut Praline Latte should be one of the most chosen by customers who truly like coffee.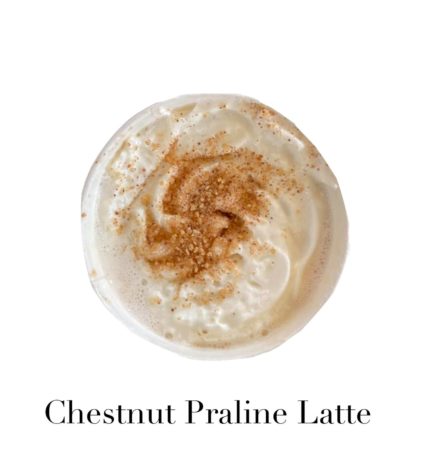 Although the Chestnut Praline Latte didn't have a great approval rating between the group, in my opinion, this delicious drink had a special flavor and aroma that reminded me of a cold Christmas morning.
The coffee is made from espresso blended with caramelized chestnuts, steamed milk, praline bits, and whipped cream. The combination of all these ingredients made me fall completely in love with this drink, which will always be my first choice when ordering at Starbucks. I would also recommend taking good company with you while tasting this drink.
The clear winners were the Caramel Brulee Latte, which was rated a 9/10 by the group, and Peppermint Mocha, which we rated an 8/10. Less popular, on the other hand, were the Irish Cream Cold Brew and Toasted White Chocolate Mocha, which scored 4 and 5 out of 10 respectively. Our group agreed that these drinks have a nice presentation, which includes whipped cream and colorful sprinkles. In addition, the barista ensured all drinks had an appropriate warm coffee temperature. While our ratings varied, at least one person enjoyed each drink.
Overall, we feel that Starbucks has consistently created a warm and fuzzy atmosphere that creates holiday cheer accessible to all. From the limited-edition festive cups to the six drinks we taste tested, the Christmas spirit remains palpable and is "no joke" for the Starbucks franchise.
According to the Starbucks website, their holiday drinks run until the second week of January. To get into the Christmas spirit, you should definitely come down to Starbucks and try these drinks. After all, there's no place like Starbucks for the holidays.